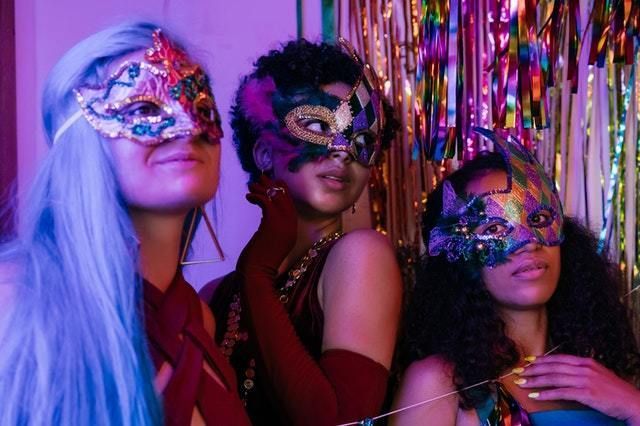 When you think about New Orleans, what comes to your mind? There are jazz musicians, Creole food, and the unique architecture, but I bet what you thought of right away is Mardi Gras. French for "Fat Tuesday," Mardi Gras this year is on Tuesday, March 1st. It's the end of the Carnival season and one last day to eat rich foods before the fasting of the Lenten season begins on Ash Wednesday. 
Many celebrations take place throughout the Carnival season, including parades organized by krewes, which are local social organizations. Each krewe chooses a different theme for their float every year; members on the floats wear masks (it's illegal not to!) and throw beads and other gifts to revelers. Mardi Gras is much more family friendly than most people realize, and the Mystic Krewe of Barkus even hosts a parade for dogs. 
In honor of Mardi Gras, have some King Cake and experience the world of New Orleans with one of these books. 
Fiction 
The Awakening by Kate Chopin 
Published in 1899 and heavily influenced by the French and Creoles, this book shocked readers for its portrayal of Edna Pontellier and her unhappy marriage. Considered one of the first feminist novels, it examined social constraints on women and gender roles. 
A Kind of Freedom by Margaret Wilkerson Sexton 
A multi generational story that explores racism in America, A Kind of Freedom tells the story of Evelyn, her daughter Jackie and her grandson T.C.. The characters are affected by events spanning from World War II to Hurricane Katrina and grapple with young love, upward mobility and unrealized potential. 
Voodoo Season by Jewell Parker Rhodes 
What's a story about New Orleans without a little voodoo? When Marie Levant moves to New Orleans to practice medicine, she learns that she's the  great-great-granddaughter of famed Voodoo priestess Marie Laveau. When several teenagers arrive in the emergency room with identical mysterious marks, she feels compelled to investigate and learns more about her family's history as she does. 
Meet Cécile by Denise Lewis Patrick
Cécile is a free black girl living in New Orelans in 1853 and she can't wait for this year's Mardi Gras celebrations, especially because her beloved brother is coming back home from France. Even more exciting is when she meets a new friend named Marie-Grace Gardner. Together they form an unlikely friendship and share a daring adventure together. This is the first book in a unique American Girl series that follows both the lives of Cécile and Marie-Grace. 
Delphine Denise and the Mardi Gras Prize by Brittany Mazique
This lively picture book written by a New Orleans native tells the story of Delphine Denise Debreaux who rides in the Mardi Gras parade every year with her friends on their bikes. But when she finds out that the crown will go to the person who builds the best float she decides to to do whatever it takes to win. It's a charming story of friendship and a wonderful introduction to Mardi Gras for younger children. 
Non-Fiction 
Gumbo Life: Tales from the Roux Bayoux by Ken Wells 
The food of New Orleans is beyond compare, but where did it come from? Ken Wells introduces us to the diverse cultures who brought it to life, his momma's kitchen, and even includes recipes for us to try it for ourselves. 
Nine Lives: Death and Life in New Orleans by Dan Baum 
New Orleans can be a complex and complicated city, and reporter Dan Baum explores the lives of nine residents over the course of 40 years, with Hurricanes Betsy and Katrina acting as bookends around their lives. Nine people live through very different experiences in their respective neighborhoods of the city and their stories are woven together into a portrait of New Orleans. 
Mardi Gras by Rebecca Pettiford
With large, labeled and colorful photos this book for emerging readers will introduce elementary age children to the rich traditions of New Orleans Mardi Gras.