Library Local History Resources
The library maintains a small collection of non-cataloged local history resources, including commemorative books from the Green Tree Centennial. Patrons may browse and photocopy these materials. Please ask a staff member for help.
The library also subscribes to several genealogy databases, including Ancestry.com, a comprehensive source of information for conducting genealogical and local history research.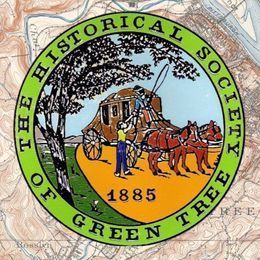 Historical Society of Green Tree
Another place to find information on Green Tree and surrounding areas is at The Historical Society of Green Tree, which is located in the Municipal Center in the hallway behind the library. Their hours are Tuesday from 9:00 a.m. to 12:00 p.m. and Saturday from 10 a.m. to 12 p.m.
Historical Society Collections
Local, county, state, American histories
Obituary and death notices file
Complete bound collection of the Chartiers Valley Life weekly newspaper, 1923-1956
Census microfilm from 1790-1930 on CD's
Large collections of local school class pictures
Aerial photograph collection from the 1930 up to the 1990's.
Oral history tapes of residents
Family history files, home history files
County and town histories
School yearbooks
Videos of community events
Map collection
School tax records 1922-1940
Planning commission minutes from 1950s thru 1960s
Local cemetery books, Borough Directories
Minutes and albums from local civic groups including American Legion, Womans Civic, PFO, GAA, etc.
Property assessment books 1976-1980 and 1986-1991
Photographs, news clipping, memorabilia
Historical Society Facts
Organized September 1985 as a direct result of the Green Tree Centennial
Displays artifacts in display cases in hallway behind, as well as in the historical society room
Speaks to community groups on the history of Green Tree
Conducts tours for schools, scouts and other community groups
Invites the public to use our facility for genealogy and history research
Contact the Historical Society
Phone: 412-921-8013
Email: greentreehistory@greentreeboro.com
Facebook: https://www.facebook.com/greentreehistoricalsociety