BORROWING MATERIALS
Borrowing Periods
The library assigns a borrowing period to each circulating item in the collection, usually one week or three weeks. This period may be extended at the staff's discretion.
Borrowing Limits
Cardholders may borrow up to 100 circulating items from the library, including up to a total of 25 CDs and DVDs.
Auto-Renewals
Checked out items will be automatically renewed for six (6) additional circulation periods, unless or until a hold is placed on the item by another patron. Some items are exempt from auto-renewals.
To learn more, visit our current Circulation / Borrowing Policies page. 
GETTING A LIBRARY CARD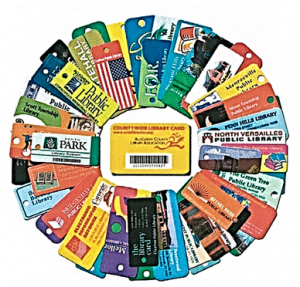 One Card, Infinite Possibilities
Because the public libraries in Allegheny County share resources, cardholders can borrow materials at any of the 70+ libraries in the county and return them to any library in the county. Work downtown but live in Plum, Green Tree, Bethel Park or Franklin Park? Pick up a book over the weekend from your community library, and return it to the library downtown. While you are in the downtown library pick up a CD and return that when you are out in Monroeville for a dinner meeting.
How To Get A Library Card
There are two ways in which to obtain a free library card:
Visit the library's circulation desk during open hours and present personal identification and verification of your current address.
Register for a temporary library card online. With this option, individuals 18 and older may reserve materials, but must present personal identification and address verification upon picking up reserved material.
Eligibility
If you are a resident of Allegheny County, you are eligible for a library card, good at Green Tree Public Library, the Carnegie Library of Pittsburgh, its branches and all district libraries in Allegheny County.
To obtain a juvenile library card, applicants must be under 18 years of age. All children's cards are to be linked to the guardian's accounts (when possible). 
Green Tree Public Library also offers library cards for residents outside of Allegheny County.
Identification for Library Card Applications
Applicants must show a photo identification and proof of address. In some cases, the photo identification will include a current address, in which case another form of identification is not required.
Acceptable Forms of Photo Identification (must be valid/current)
PA Driver's License
PA Identification Card
Passport
State ID
Military ID
Work ID
Student ID
Medical Insurance Card
Acceptable Proof of Address (Must be valid/current)
Vehicle registration card
Vehicle insurance card
Medical insurance card (if carries address information)
Lease/rental agreement
Property tax receipt
Utility bill (electric, gas, telephone, water – dated within 4-6 weeks)
Paycheck (dated within 4-6 weeks)
Bank account statement (dated within 4-6 weeks)
Credit card billing statement (dated within 4-6 weeks)
Report card from the most recent grading period
Unacceptable Identification
Hand-addressed/personal mail
Business cards
Sales receipts
Magazine subscriptions
Junk bulk mail
Social Security card
Birth Certificate
Lost or Stolen Cards
Borrowers with lost or stolen library cards should report this to the library circulation desk immediately to avoid possible misuse of the card. Borrowers with lost library cards may obtain a replacement by applying in person at the library circulation desk; there is a $1.00 fee for a new card, payable at issue. Identification showing name and current address is required.
Forgotten Cards
In order to check out materials, borrowers who have forgotten their valid library cards must present identification showing his/her name and current address.
Expired Cards
All library cards, including non-resident library cards, expire after two years. Library cards in good standing will automatically renew. Patrons who have not used their library card in two or more years will need to contact the library to reactivate their card or, if their record has been purged, apply for a new card.