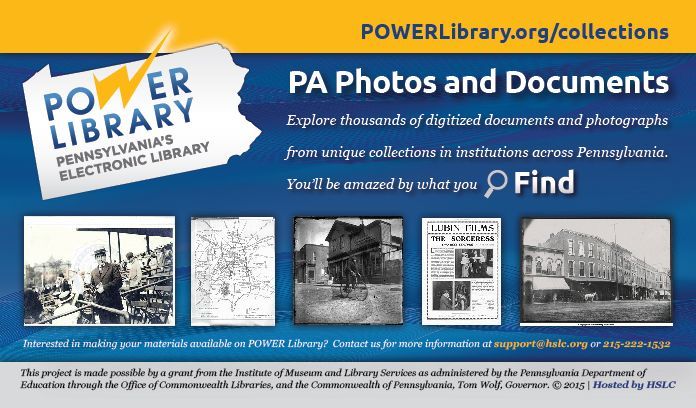 Explore African American History and Culture with Digital Collections available in PA Photos and Documents!
Explore the following collections:
Pamphlet Boxes African-American History Collection (Germantown Historical Society/Historic Germantown)
The collection includes various annual reports, programs, letters, financial information, newspaper clippings, and ephemera documenting the history of the African American community in Philadelphia's Germantown neighborhood and vicinity, from circa 1868-1939, and the roles of women in the following organizations. Includes materials associated with the Union Mission for Colored People, the Industrial School for Colored Women, and the Colored Soldiers' and Sailors' Orphans Home. 
Rural African Americans of the Allegheny Mountains (Meyersdale Public Library)
These 18 photographs are part of a larger Meyersdale Public Library – Photograph Collection. The photographs selected for display as part of that larger PA Photos and Documents collection are significant because they provide a broad overview of life immediately before, during and after the Progressive Era in the Allegheny Mountains region (mostly Somerset County, Pennsylvania, and northern Maryland). These 18 photographs in particular - part of a larger glass negative collection housed within the library's archives - portray African American families and individuals in portraits, natural and workplace settings, and also within the town of Meyersdale itself. A significant African American community lived, worked and worshiped in Meyersdale during the late 1800s and through the first several decades of the 20th century.
The Colonization Herald and General Register Newspaper (State Library of Pennsylvania)
A newspaper of the Pennsylvania and New York Colonization societies, covering immigrant issues, African American affairs, religious tracts and tract societies, and various other issues, such as the Apprentices' Library company of Philadelphia.  Contains advice and informational columns on household affairs and farming.  Also reports on the Back to Africa movement and African affairs in other countries, such as Haiti.  Published fortnightly at first, then weekly, in 1838, then published monthly in at least January-June 1839, beginning with the New Series, which restarted numbering.  Issues from March 14, 1838 to December 26, 1838.
Explore PA Photos and Documents with your library card!