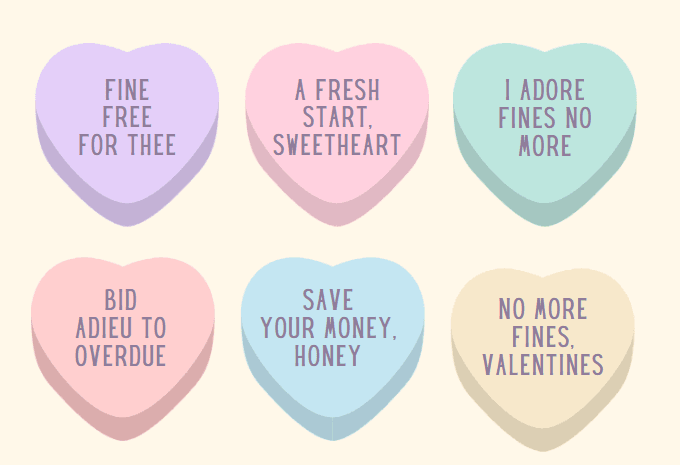 Beginning February 16, the library will no longer charges daily late fines on items that are overdue, and if your home library is Green Tree, any existing fines lingering on your account will be waived. You may still be charged for lost or damaged materials, printed items, or other fees, but you can turn in that stack of children's picture books a day or two late without fear of racking up a big bill! 
Who, What, When, Where and Why?
Who: Green Tree Public Library Board of Trustees 
What: Amended the Library's Lending Policy to eliminate the accrual of late fines on overdue items  
When: January 18, 2022 
Where: Green Tree Public Library, 10 W. Manilla Ave. Pittsburgh, PA 15220
Why: Because late fines on overdue materials, while generating a small amount of revenue for the library, prevent users who need it most from taking advantage of this essential public resource. 
FAQ: Frequently Asked Questions
Does this policy change mean I can keep my library materials forever? 
No, all library materials will still have a due date, and books that are lost, damaged, or otherwise not returned will be charged just as they are now. As the due date approaches, the library will notify the patron of the due date and ask that they return it (if the item is not eligible for renewal). If the item is six weeks overdue, a bill to replace the item will be issued, and if an item is more than six weeks overdue, the account may be referred to a collection agency depending on the registering library. 

Won't this policy negatively impact the library's budget? 
Overdue fines generate less than .3% of our annual budget at this point. We constantly explore other ways of generating income to help supplement our operating budget.  

If patrons are not charged overdue fines will items still be returned in a timely manner? 
Yes, our expectation is that the majority of items checked out will still be returned within a few days of the due date, regardless of an overdue fine. Other libraries that have made this change have not seen a significant change in the rate of items that are overdue and see around 95% of items returned within one week of the due date. 

Isn't it the library's job to teach civic responsibility with overdue fines? 
Green Tree Public Library's mission is to "nurture the educational and intellectual needs of the community and to be a place conducive to reading, thinking, dreaming and working.."  
We believe this policy change will help us better accomplish our mission to create an inclusive, welcoming environment. Studies have shown that overdue fines create a barrier to access for the library patrons who need our services the most. We want everyone to feel welcome at the library! 

Will the library eliminate previously accrued overdue fines? 
Yes, along with the policy change to cease charging overdue fines on materials, we will also waive overdue fines for those with Green Tree as a home library. This includes overdue fines on items from other Allegheny County Library Association libraries. 

Will the library change the fee limit at which it block accounts? 
The library blocks account privileges (borrowing, renewal, e-resources, and databases access) if more than $10.00 in fees are owed.

Will materials accrue a daily overdue fine? 
No. Items checked out from Green Tree will no longer accrue overdue fines.  Any fines that are assessed while we transition to fine free will be waived. Damaged items, lost items, and items that are not returned after all eligible renewals have been used will generate replacement fees.   
Note:  Materials checked out at other libraries may still have fines. Fine are generated at point of check out. 

Will items from the other ACLA libraries still accrue daily overdue fines? 
Yes, materials from some other libraries will still accrue fines, though about half of libraries in the county have also eliminated fines on overdue items. Fines are generated at point of check out, but we will waive them at Green Tree Public Library. 

Will the library give refunds to patrons who paid their overdue fines before this change? 
No, the library does not refund overdue fines previously paid under the old late fee policy.

Will the library continue to collect manual charges from other libraries?   
The library will only collect the Manual Collection Agency charge for other libraries as there are procedures in place for reimbursement.   

What about ILL overdue fines?
ILLs will not have fines if checked out at Green Tree Public Library – but they are not able to be renewed.  

What is the difference between a fine and a fee? 
Fines: funds owed for overdue items 
Fees:  funds owed for replacement items, collection agency charges, and other manual charges.