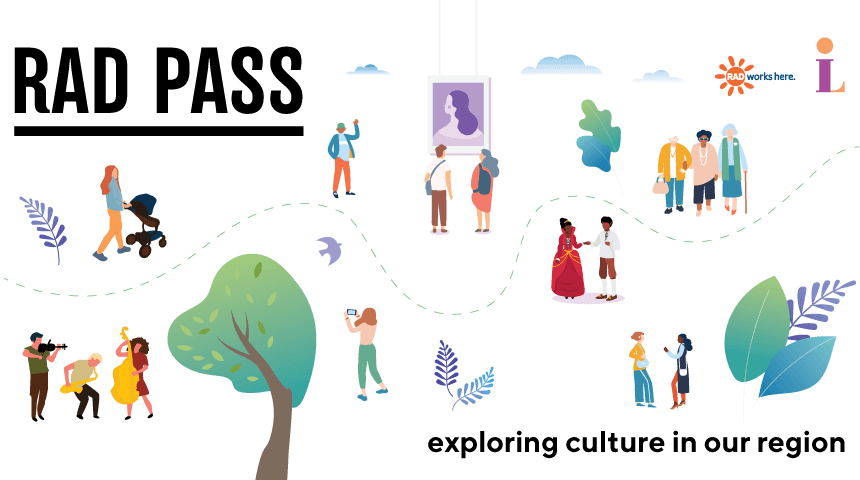 Welcome to RAD Pass! Beginning today, you can discover and access free or discounted tickets to area attractions using your library card at www.radpass.org. This initiative was coordinated by Carnegie Library of Pittsburgh (CLP) with generous support from the Regional Asset District (RAD) and participating organizations. RAD Pass helps make our region's cultural resources available and accessible to everyone. Hear your favorite author speak, wander around the Andy Warhol Museum, catch a performance at the Pitsburgh Symphony Orchestra and more! 
Who can use RAD Pass?  
RAD Pass is available to any Allegheny County library cardholder over the age of 18. Library cards must not be expired. 
How do I make a reservation on RAD Pass?  
Visit radpass.org and click on "Reserve a Pass."
Enter your library card credentials. If you need a library card, you can register online.  
Browse for passes by date or venue. Please note that passes are in high demand and supplies may be limited! 
Make a reservation. 
Make sure to read each offer carefully, as most museums will require you to make a timed-entry reservation on their website after you have reserved your RAD Pass due to current public health guidelines for the Covid-19 pandemic.  
Print or download your pass shortly before your visit. Remember that once you print/download your pass you cannot cancel your reservation. Passes are only redeemable during hours that each venue is open to the public—be sure to check the venue's hours before you reserve! You will be required to present valid ID in person that matches the name on your pass. The cardholder who reserved the pass must be present to redeem free entry.
Which cultural institutions are available for reservation through RAD Pass? 
For a complete list and detailed information on each, please visit Participating Organizations.  
Why don't all the partners listed on your website have offers available right now? 
RAD Pass partners make ticket offers based on availability and may only have a limited number of passes to offer at a given time. If passes are not currently showing for your favorite amenities, check back soon. 
Is there an age limit to participate in RAD Pass? 
You must be 18 or older to reserve passes. Individual passes may include age restrictions, too. Check the offer details for more information. 
Can I print a pass at a library branch? 
You can print a pass at any library location. Green Tree Public Library will not charge for printing RAD Passes.
Is there a mobile version of RAD Pass? 
The RAD Pass site is designed to work on any device. Use the browser on your mobile device to access the mobile version of RAD Pass. 
Why can't I make a reservation? 
There are a few reasons why you may not be able to make a reservation: 
No passes are currently available. Check back soon! 
You have met your limit of active reservations. 
You've already used up your available passes at this site for the year. 
How do I cancel an active RAD Pass reservation? 
You can only cancel a pass if you have not clicked on the "Print/Download" button and agreed to the warning that passes cannot be cancelled after viewing or printing. For this reason, we recommend printing your pass one day prior to your reservation. Library staff cannot cancel passes for you. If you need to cancel, please do so with three days' notice (when possible) to allow someone else to use the pass. 
How can I reset my PIN? 
You can reset your PIN by visiting the library or calling us at 412.921.9292. 
How many passes can I reserve? How often can I reserve passes? 
Limits on the number of passes and how often you can reserve a pass are set by our Participating Organizations for each offer. To find out the details about any pass offer, log in and view the offers.